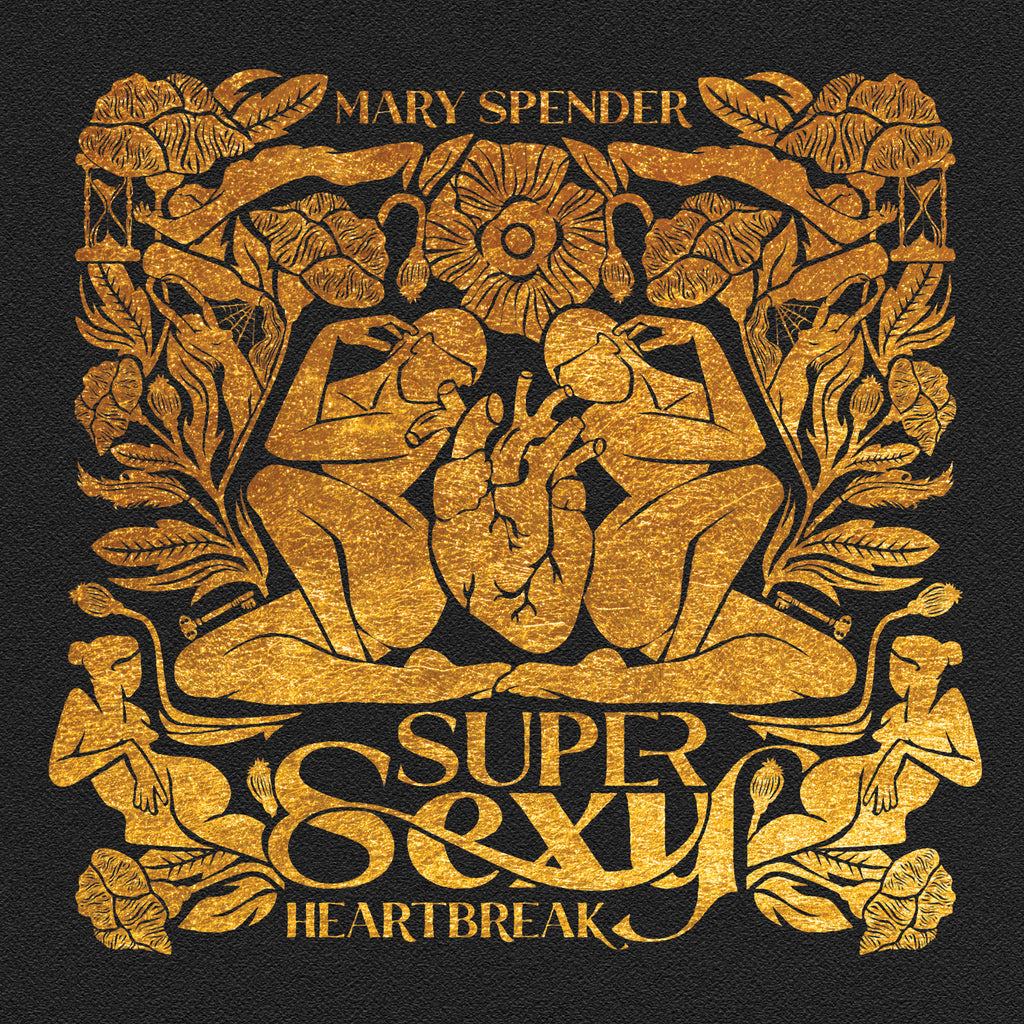 Super. Sexy. Heartbreak. CD by Mary Spender
The Debut Studio Album From Mary Spender - this version is not signed - just be aware! The signed copies are all sold out. However the CD is still a magical experience and still very limited. Every purchase really helps me and comes with a digital download. 
Please be aware that depending on where you are. There will be customs charges. Apologies that this is out of control. 
------
Track Listing
1. You Can Have Chicago
2. Getaway Sun
3. One Kept Secret
4. Do You Want To Play?
5. Make Me An Offer
6. Church Bell
7. Wake Up To You
8. Drop, Drop, Slow Tears
9. One To The West Coast
10. I Blame Myself
11. I'll Stay Quiet

All songs written by Mary Spender
Engineered, Mixed and Produced by Pau Romero
Mastered by Chris Gehringer

Mary Spender: Vocals, Guitars, Piano
Pau Romero: Guitars, Keys, Synths
Sean Hurley: Bass Guitar
Aaron Sterling: Drums, Percussion
Ariel Posen: Slide Guitar (Track 8)

Album Cover Art: Roberta Landreth

------

PLEASE NOTE DELIVERY INFORMATION BEFORE ORDERING
The Mary Spender Store uses Royal Mail 'Tracked' Delivery only.
'Tracked' shipping provides a tracking number. If your package is lost when using the 'Tracked' option The Mary Spender Store will provide a replacement free of charge.
------
The Patrons of this Album (Included in the credits)
Aaron O´Rourke
Alan Clark
Alan Hightower
Andrew Sussman
Andrew Tenn
Aubrey Robinson
Benjamin Hall
Bent Ruler Band
Cetian
Coleen Cairncross
Donald Tsusaki
Erik Petersen
Guillermo Sohnlein
Ian Duffield
Joel Tomaneng
Justin Cleary
Lance Seelbach
Lars Michael Hoffmann
Patrick Murphy
Robert Lewis
Scott Bonneau
Skip Stromenger
Stephen Kabalka
Stephen Smith
Stephen Wiggen
Ted Lavoie
Vijay

Adam Dziczek
Adamalthus
Adrian Habryka
Al Villar
Alan Little
Alec Gainer
Alex Nepomuceno
Andrew Kedas
Andrew Sinclair
Ann-Marie Patton
Aritomo Shinozaki
Barry Jones
Barry Messenger
Bastian Jell
Blazej Poczatek
Bobby Lindblad
Bradeford Robles
Brett Drought
Bruce Cooper
Bruce Forestal
Bruce Obenour
Bruce Smith
Bryan E Leary
Cameron Johnston
Carpey Codes
Chris Glynn
Chris NJ
Chris Osborne
Christopher Burke
Colin Aiken
Colin Perry
Craig Mortensen
Craig Souder
Curt King
Damien Blount
Dan Rasay
Daniel Stehrenberger
Daniel Walton
Daniel LeBlanc
Dave Legrid
David Jellema
David Prince
David Powell
David Probert
David Quevedo
David Self
David Songer
David Weyhreter
Dee Yanero
Derek Chandler
Didier Signat
Dietrich Klaassen
Dinan Gunawardena
Dirk Hartwich
Don Taniguchi
Donal Botkin
Donal Daly
Dustin Clark
Dustin Padgett
E T Ellison
Edward Quinn
Eric Deschenes
Eric Mongeur
Frank Harlan
FxTraderTim
Garry Dexter
George M. Allman
Geert Verhaest
Gene Evans
Geoff Rippon
Georgina Lopez
Gerard Lee
Glynn Moffatt
Golding Family
Greg Nottis
Gregg Collins
Gregory Randall
Gregory Worth
Grumpyt
Guy-John Jotterand
Hawkeye
Herb Nowell
Jack Everett
Janne Juhola
Jay Yates M.D.
Jeff Buck
Jeff Charles
Jeff Chilton
Jeff Donahue
Jeff Israel
Jeff Staley
Jefferson Davis
Jeffrey Spencer Peters
Jens Raffelsiefen
Jeremy Hanks
Jeremy Malli
Jerry Holman
Joe Rampino
John Baarli
John "JB" Brown
John Negus
John Paul Capresecco
John Wollenbecker
Jon Moore
Jon Sulek
Joseph Timmins
Joshua Ian Lesavoy
Justin Grimaldo
Karl Gibson
Kerry Labiuk
Kimberly Klamon
Kirk Boyd
Lars Andersen
Laura Mowle
Lee Clarke
Leland Grant
Lewis Hudson
Larry Jones
Lorin Alusic
Lukas Kuhlmann
M Andrews
Maik Novy
Marc Solovay
Marc Testart
Mark Collins
Mark Gaither
Mark Tudor
Markus Hochholdinger
Martin R
Martyn Greville-Giddings
Marvin Sengera
Matt Sainopulos
Matthew Gray
Matthew Rock
Melissa Boblitz
Michael Green
Michael Bishop
Michael Boetje
Michael Costelloe
Michael Ebert
Michael Pitts
Michael R Lane
Mikael Jonsfjord
Mike Rawlins
Mons Thyness
Music Hits Face
Nancy Vrentas
Nathan Haynie
Nathan Hellyer
Nathaniel Naranjo
Ole-Martin Wold
Olli Halt
Paul Hetherington
Per Frolander
Perry Payne
Przemek Zawadzki
Randolph Arakaki
Richard Bacon
Richard D Russell
Richard Good
Richard McIntyre
Rick Molloy
Rob Machin
Rob Mason
Robert Clark
Robin Brentwood
Romain Baugue
Ron Roberts
Ronald Moe
Ryan Vrabic
Scott Douglas
Sean Colbert
Sean Hughes
Sean Round
Sebastian Gornikiewicz
Sheila Yount
Shelley Pryor-Anderson
Simon Broucke
Simon Troman
Sir Charles
Skip Carter
Spandau Guy
Stephen Houle
Steve Byrne
Steven R Skorich
Tamieca
Ted Equi
Thodkin Marblemeister
Thom Atwell
Tobias Rosenkranz
Toerstad
Tom Burger
UltraVioletIdea
Vijay Parikh
William Creighton
William Jones
Y4Glory